What is Mercedes-Benz DISTRONIC PLUS®?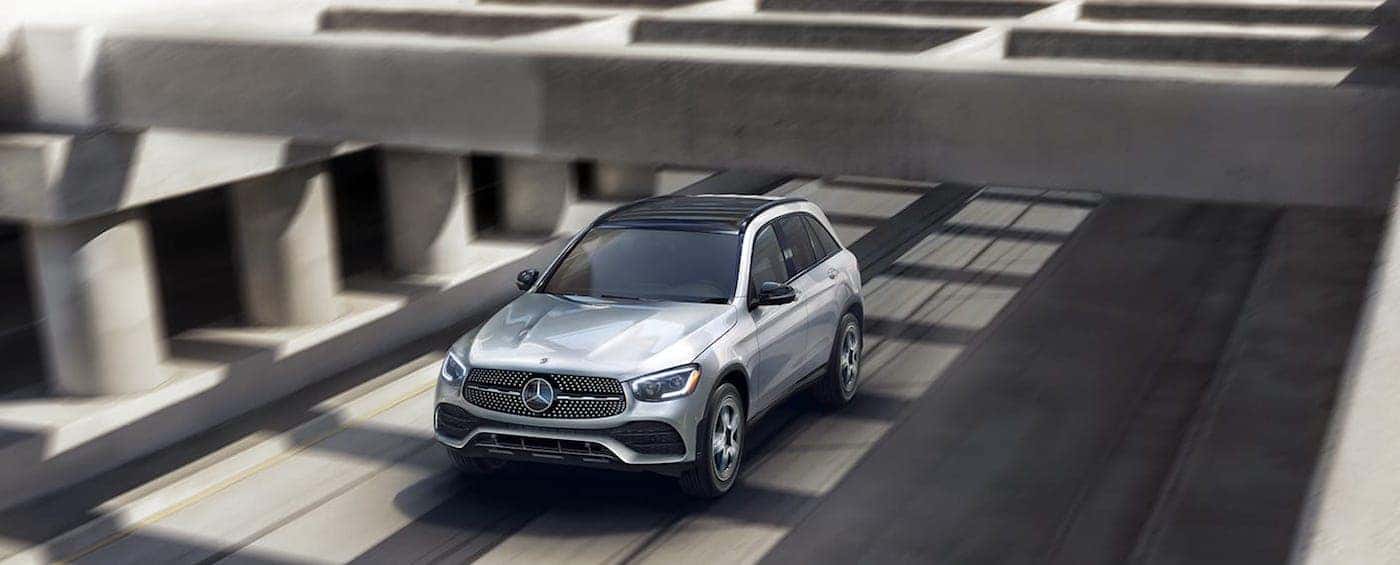 North Olmsted drivers often ask us about Mercedes-Benz DISTRONIC PLUS®. Mercedes-Benz DISTRONIC PLUS® is a potentially life-saving technology that helps you maintain your car's speed and distance from the vehicle that is directly in front of you. DISTRONIC PLUS® uses radar technology to track the distance between your car and the car ahead of you, and then it makes adjustments as needed. Basically, Mercedes-Benz DISTRONIC PLUS® helps you stay with the flow of traffic and keeps you safe on those drives around Cleveland. Mercedes-Benz of North Olmsted brings you this helpful guide to Mercedes-Benz DISTRONIC PLUS®.
Steps to Using DISTRONIC PLUS®
Does your new Mercedes-Benz vehicle come already equipped with DISTRONIC PLUS®? If so, follow the simple steps below to utilize the system:
Find the DISTRONIC PLUS® controls on a lever attached to your car's steering column.
Move that lever up or down to change the cruising speed while driving. If you move it up your car will accelerate. Move it down for a slower speed. If you press the lever gently, it will change your speed by one mile per hour increments.
Pressing the lever harder changes the speed by five miles per hour.
To abandon your current cruise control setting, lightly apply the brakes or push the lever away from you.
Pull the control toward you to continue the last speed that was set.
Use the knob at the end of the lever to set the correct distance between you and the vehicle in front of you. The central screen will show the distance interval that you set.
If you need to stop for longer than three seconds, gently press on the accelerator or pull the lever toward you to continue your prior speed and distance.
It's crucial that you only use DISTRONIC PLUS® on highways. Wherever you go around Westlake, make sure you're always aware of your surroundings and never rely completely on any driver-assistance technology. If you want to learn more about DISTRONIC PLUS®, refer to your vehicle's owner's manual or call the service department at Mercedes-Benz of North Olmsted. We're always happy to help!
Function of DISTRONIC PLUS® with Steering Assist
DISTRONIC PLUS® with Steering Assist only works when it senses that both of your hands are on the steering wheel. This system will operate at speeds of up to 120 mph. When it's activated, you'll see a green steering wheel displayed on your instrument panel. This system tracks lane markings and other cars around you on Avon roads, and makes any needed steering corrections to accommodate changes on the roadway.
Mercedes-Benz That Offer DISTRONIC PLUS®
Are you searching for a Mercedes-Benz with DISTRONIC PLUS® or DISTRONIC PLUS® with Steering Assist equipped vehicles? If so, these are your options:
Mercedes-Benz A-Class
Mercedes-Benz C-Class
Mercedes-Benz CLA
Mercedes-Benz CLS
Mercedes-Benz E-Class
Mercedes-Benz S-Class
Mercedes-Benz GLC
Mercedes-Benz GLE
Mercedes-Benz GLS
Mercedes-Benz G-Class
Mercedes-Benz SLC
Mercedes-Benz SL
Learn More About Mercedes DISTRONIC PLUS®!
Would you like to explore further the Mercedes DISTRONIC PLUS® or DISTRONIC PLUS® with Steering Assist systems? Then contact Mercedes-Benz of North Olmsted today! Our sales team will be happy to fill you in on all the Mercedes-Benz performance and safety features!
More From Mercedes-Benz of North Olmsted
An SUV doesn't have to lack style and sophistication. The 2020 Mercedes-Benz GLA interior includes all the spaciousness, comfort features, and state of the art technology you want for your drives from Cleveland to Westlake. From safety and convenience amenities to infotainment, the technology in the GLA Mercedes-Benz interior will keep you safe and connected,…

The Mercedes-Benz GLE has no shortage of options for Cleveland drivers. Whether you're looking for a practical family hauler with seating for five or seven passengers, or a high-powered SUV with the latest technologies, the new GLE has a trim level for you. Plus, the GLE 350 Coupe is an available option for those who…

The 2020 Mercedes-Benz E-Class showcases everything that the Cleveland driver wants in a luxury vehicle: powerful performance, plush interior, high-tech amenities, and an outstanding warranty. Take look inside the Mercedes-Benz E-Class interior and find out the latest Mercedes-Benz E-Class price with Mercedes-Benz of North Olmsted: Learn More View Inventory Engine, Transmission, and Performance When you drive a luxury…